Did you know you can drastically reduce your energy costs by implementing some simple solutions?
Each year, homeowners and tenants are spending hundreds, if not thousands of pounds on heating their home. These costs can be substantially reduced by fitting energy saving measures.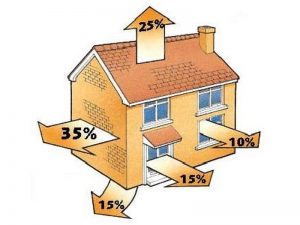 Whilst only a rough guide, this diagram shows how the heat in your home is lost.
35% is lost through uninsulated walls
25% is lost through an uninsulated roof
15% is lost through an uninsulated floor
15% is lost through doors and draughts
10% is lost through the windows.
How Can We Help?
South Coast Surveying can provide a FREE* energy assessment when carrying out an EPC to advise what measures can be installed to help keep your home warmer and reduce your energy costs.
Our report will contain a breakdown showing how the measure will help, the potential improvement it will make to your EPC and also detail what government grants are available alongside indicative costs for installation.
In addition to this, we at South Coast Surveying can manage the entire installation process on your behalf! and we provide a FREE post-EPC reflecting all of the improvements you have had installed in your property?
Own more than one property? South Coast Surveying can advise on upgrades to ensure that your property reaches the upcoming Minimum Energy Efficiency Standards (April 2018).
Please see our technologies section for more detail on each recommended measure.
*The cost for the energy assessment is £30 (in addition to the EPC cost), however if you proceed with any of the recommended measures through our network of installers, this money will be refunded.